Se VMware non vi permette di avviare una macchina virtuale che è stata spenta brutalmente (= senza un opportuno shutdown o suspend)  lamentandosi che "this machine appears to be in use" procedete in questo modo: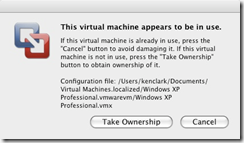 Chiudete VMware
Localizzate la directory dove avete i file fisici della virtual machine che non si avvia (di default stanno nella cartella Documents/ del disco locale o nella vostra home – ad esempio, nel mio caso in /home/michele/vmware/Ubuntu)
Andate nella directory del punto 2 e, creando una copia di backup, spostate i files con estensione *.lck in una directory temporanea [C:\Windows\Temp (Windows) o /tmp (Mac/Linux)]
Riavviate la macchina virtuale: questa volta si avvierà senza problemi.
Nota: cosa sono i file *.lck? Sono file di locking che VMware crea ogni volta che la virtual machine è in uso: se accidentalmente questa viene "spenta" in modo errato, questi files non vengono rimossi da VMware; ecco perché bisogna farlo manualmente.